From Hospital Bed to Victory Lane 2015 is Cicconi's Years
NewEgyptPR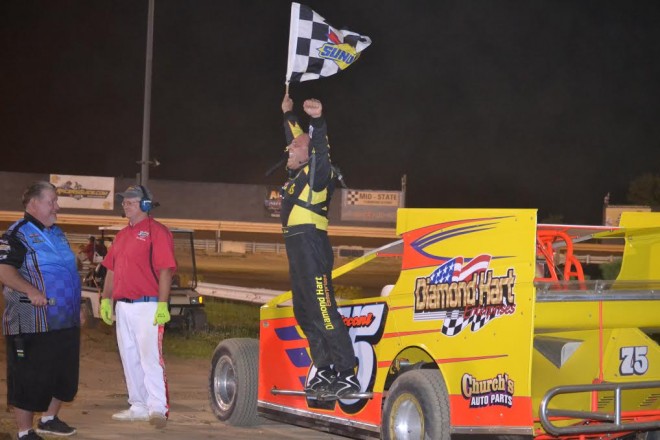 [youtube url="https://www.youtube.com/watch?v=yxynM7eNPck" width="600″ height="400″ responsive="yes" autoplay="no"]
Point Pleasant, NJ Lou Cicconi is back in Victory Lane after winning at New Egypt Speedway on July 11th, just months after breaking his back driving a TQ Midget indoors last December.
"The newspapers reported that race was the first race I won since I broke my back," said Cicconi.
But it was actually his second win after the accident as he won on asphalt a few months prior. Since returning to the racecar, Cicconi has struggled as he transitions from asphalt Super Modifieds to dirt Modifieds and was about ready to call it quits until a trip to New Egypt's Victory Lane.
"To me what's important is the fact that since I broke my back, I've been down on my luck and my racing experiences have been less desirable," said Cicconi. "I really was getting ready to quit racing."
While a severe accident, such as breaking your back, may prevent or discourage some drivers from returning to the sport, Cicconi was ready to get in a car as soon as his doctor approved. Whether he's behind the wheel or in the pits working on a car, Cicconi's home is at New Egypt and ending up in Victory Lane had extra special meaning.
"It was my father's birthday on Wednesday and I won as well, which made it extra special. To realize what everyone had done to get me there, it was very meaningful to me," said Cicconi.
Cicconi's biggest accomplishment can't be hung on a wall or logged in a record book.
"The biggest accomplishment, not really having to do with driving per se, is winning the respect of drivers and fans. To me that's not an accomplishment you get just by winning a race or 100 races. It was years and years in the making for me to reach that accomplishment," said Cicconi.
Catch Lou Cicconi at New Egypt Speedway every Saturday night, piloting the colorful number 75 modified.