New Egypt Speedway 'Mid-Atlantic Championship Weekend' Offers Halloween Weekend Auto Racing Excitement
erik158@gmail.com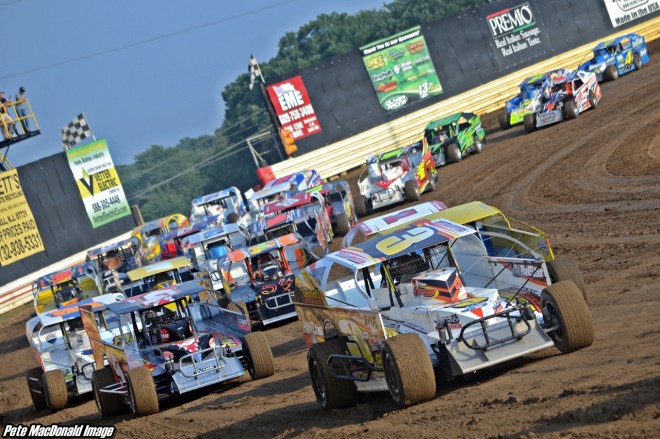 New Egypt Speedway 'Mid-Atlantic Championship Weekend' Offers Halloween Weekend Auto Racing Excitement; Modified $5,000-to-win, SpeedSTRs, Crate & Open Sportsman, RaceSaver® Sprints, Outlaw Stocks & XCel 600 Modifieds Part Of Busy Two-Day Racing Weekend
NEW EGYPT, NJ – There will be no tricks – just treats – when New Egypt Speedway hosts the Mid-Atlantic Championship weekend October 30-31.
Two busy days of racing are planned for the D-shaped 7/16ths-mile facility to conclude the 2015 season in grand style. The Mid-Atlantic Championship is co-promoted by BD Motorsports Media LLC as a special Halloween weekend spectacular for the area's race fans and competitors featuring a plethora of divisions.
The Mid-Atlantic Championship weekend is headlined by a $5,000-to-win Modified event, featuring big- and small-block engine combinations on Saturday (October 31). This 40-lap main will reward drivers with $1,000 for 10th-place and $400 just to take the green flag.
This program is an affiliate of the Short Track Super Series Fueled By Hi-Tek, which will have concluded its point season for both the North and South Regions by that point.
Also on Saturday will be the return of the SpeedSTRs to New Egypt Speedway. The NES venue was key in the early development of the cars by Rich 'Toby' Tobias with its Sunday afternoon specials. The division has since exploded with the advent of Action Track USA in Kutztown, Pa., and will bring superstar drivers from various facets of racing together in a $3,000-to-win clash.
Saturday's program will be rounded out by the Open vs. Crate 602 Sportsman (25 laps) offering $1,200 to win, $120 to start and Crate 602 bonuses and XCel 600 Modifieds racing for $1,000 to win in a 20-lap feature.
For the Saturday event, pit gates will open at 11 a.m. Grandstand gates swing open at 1 p.m. Hot laps get underway at 3 p.m., with qualifying underway at 4 p.m.
Friday night (October 30) will be topped by a Crate 602 Sportsman championship offering $1,000 to win and $100 to start for a 25-lap main. The RaceSaver® 305 Sprint Cars, Outlaw Stocks and open Modified practice are planned. Modifieds will be timed during their practice rounds, with a dash involving the fastest qualifiers giving the winning driver a redraw position forSaturday's main event.
On Friday, pit gates open at 3 p.m. Grandstand gates open at 5 p.m. Hot laps begin at 6:15 p.m., with racing at 7 p.m.
Complete event information and pricing will be posted on the Short Track Super Series/BD Motorsports Media LLC website at:www.bdmotorsportsmedia.com. Contact Brett Deyo by phone at 845.728.2781, via e-mail at bdmotorsportsmedia@gmail.com, on Facebook: Short Track Super Series and on Twitter @ShortTrackSS.
Located in New Egypt, N.J., New Egypt Speedway features a daylight-quality lighting system and excellent sightlines from any seat in the house. There are clean, heated restrooms, a monitored playground area for young fans and restaurant-quality concession stands serving up a full menu at family style prices. The racy, 7/16ths-mile clay oval hosts tight, wheel-to-wheel, all-out competition. New Egypt Speedway's GPS address is 720 Route 539 New Egypt, NJ 08533 and the speedway website is www.newegyptspeedway.net.